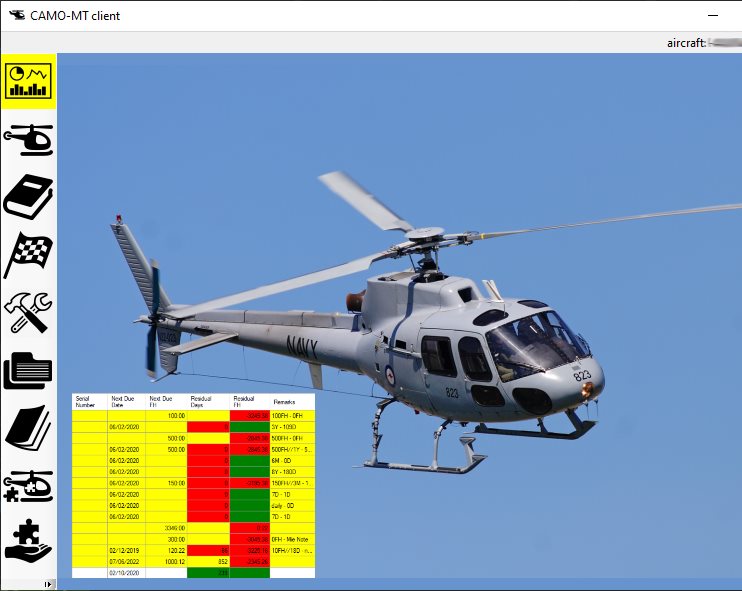 CAMO-MT:

Continuing Airworthiness Management Organization Technical Module

"CAMO-MT" (CAMO – Technical Module) is a software package explicitly designed and developed to support the day-by-day activities of a CAMO - Continuing Airworthiness Management Organization - in alignment and compliance with the EASA Part M Subpart G Acceptable Means of Compliance (AMC) and Guidance Material (GM).
The product was designed and developed working side-by-side with real CAMO senior staff members, and it distills a lot of operational experience in the management of Maintenance Tasks, Maintenance Programs, Job Card executions, Maintenance Scheduling, Work Orders and so on.
The product supports the automatic feeding of data related to the flights-logs and job card executions, coming from one or more connected operational companies. As an alternative, the product can provide a responsive web-based interface (desktop and mobile ready) to enable the manual data entry of the flights logs and of the Job card executions.

Features list
- Multi-CAMO and multi-company management. Each CAMO has a specific and dedicated view on its own data (i.e. the operational companies it supports and the corresponding aircraft fleets).
- User-specific permissions for different access levels. The system provides configurable access limitations on specific users about sensitive data or special operations.
- Aircraft identification data.
- Aircraft initialization data (flight hours, rotations, landings, cycles, engine starts,...).
- Aircraft Maintenance Programme history management with manuals' references.
- Maintenance Tasks management, per aircraft type and per specific aircraft (applicability management).
- Ability to import Maintenance Tasks from manufacturer's official specifications (specific importer component can be developed on demand).
- Maintenance Schedules (job cards) management.
- Airworthiness Directives and Service Bulletins management.
- Maintenance Schedules executions history and work reports tracking.
- Aircraft Parts management: part numbers and actual parts (serial numbers), with installation / removal history.
- Aircraft Parts maintenance / substitution deadline management.
- Aircraft flights history management.
- Ability to import flights history from external HTL/QTB system (currently, the integration exists with QTBR operations module: aircraft flights and job cards automated import).
- Synoptic view of aircraft flights.
- Automatic maintenance deadlines management.
- Automatic Excel reports generation (Aircraft Maintenance Programme, Job Cards, Work Orders, etc.)

Additional services
- Design and development of specific technological adapter ("synchronizers") to feed the CAMO-MT with updated flight log data (eg. the ATL – Aircraft Technical Log – data) coming from the operational company
- Design and development of custom reports and ad-hoc data-extraction integrated in the CAMO-MT frontend
- Pre-configuration of a CAMO-MT set of maintenance tasks and maintenance programmes for specific aircraft types, based on the raw data provided by the manufacturer or already prepared (for example in Excel-based worksheets) by the CAMO organization.
- Setup and initial configuration of a local "on premise" installation of the server-side components of the solutions, that is the Microsoft SQL Server and Microsoft Internet Information Services instances required by the product.
- Continuous or "on demand" support and technical maintenance of the installed platform (on site and/or remotely).
- Tailored training for the use of the solution from an "end-user" perspective.
- Technical training for the system administration of the solution (specially useful in case of "on-premise" installations).
- Analysis, design and development of custom additional features to support specific or specialized demand of a CAMO organization.